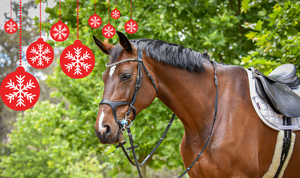 Top 5 Christmas Gift Ideas for 2021
If you're feeling anything like us right now, you're in denial that Christmas is just under six weeks away and you haven't started shopping yet... So, to make this Christmas a little easier we've put together some easy inspo to find the perfect gift for everyone. Check out our Top 5 Christmas Gift Ideas including everyday riding essentials for your horse and new season fashions, we've got something for you. Have a scroll, find the gift (or gifts) you're looking for and get adding to your basket to make 2021 the jolliest Christmas yet.
Gift idea #1
Choose a Pampeano belt for your loved ones this Christmas. With a range of unique designs and sizes there is sure to be something for everyone. We will even post it out in a gift box to make this Christmas just a little bit more special. 
Not sure what size to get? Contact us, we are always happy to advise, plus we have a great exchange policy, so don't worry, we have your back. 
Gift idea #2
Kentaur Leather Name Plate Halter
It's not a Top 5 Christmas Gift Ideas inspo list without this product... Who wouldn't want to received a beautiful leather halter with their horses name engraved onto the name plate? We can even take care of the engraving for you for just $40 extra! A timeless, sentimental piece everyone will want this holiday season.
Gift idea #3
Cavalleria Toscana 'Techn' Gloves 
Everyone needs gloves, enough said... You actually can't go wrong, they are budget friendly, great quality and no one ever complains they have too many pairs of gloves! Awesome stocking fillers too...
Gift idea #4
Made from English leather, this luxury product is sure to make anyone smile when they unwrap it. This stylish crop is available in black & two toned leather, and is finished with the Silver Crown logo. Absolutely stunning.
Gift idea #5 
Still struggling? Go fool proof and let them choose what they want with a Kentaur Australia Gift Card. You can purchase a gift card for $25, all the way up to $1,000, & the gift card code will be immediately emailed through!
Shop our Top 5 Christmas Gift Ideas online & in store today, there is something for everyone to enjoy.