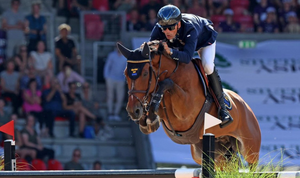 The Suomy Apex Helmet becomes a World Champion
Suomy Helmets have hit the market in Australia, offering style, comfort and reliability. Since Suomy's foundation in 1997, they have been a leading producer of Motorcycle helmets, signing a partnership with well know 'Ducati' motorcycles in 2000. Suomy took the MotoGP industry by storm & their efforts to "raise the bar' didn't go unnoticed. 
WHO IS SUOMY?
After many years of passionately designing helmets for every field of racing, it was time to expand into the equestrian world. Suomy took no time making it to the world stage with Peder Fredricson for Sweden, and Sanne Thissen of the Netherlands who took Team Gold & Silver consecutively at the World Equestrian Games in Herning recently. Not to forget Edwina Tops-Alexander Suomy's first ambassador for this brand since the creation on #SuomyHorse. Suomy grew a world class reputation very quickly, just 8 months after birth, the Apex helmet became a World Champion. 
SAFETY
Safety standard EN 1384:2017 ASTM F 1163-15 

The quality and safety of the Suomy products has been verified, tested and appreciated in various Moto sports throughout the years and the team at Suomy have applied the same safety standard to their equestrian range.
Their focus is on elegance and simplicity. The ventilation of the helmet was a priority for technicians who developed powerful air intake vents that work seamlessly. The helmets are lightweight & feature a removable and washable anti bacteria inner padding. Suomy have used high tech materials such as carbon fibre, composite thermoplastic resin, and pre-formed ergonomic chinstrap that gently meets the riders face. 
Made in Italy. Available in sizes 52 - 62.
Suomy helmet hold an approved safety standard by Equestrian Australia. For more information click here.
DESIGN
Apex Carbon Wood Helmet 
Carbon fibre is the most advance performing material used to produce protective helmets. In fact, carbon fibre is used to manufacture F1 helmets, and the combination of wood & carbon fibre is the enhancement of safety combined with elegance.
Authentic wood - Once the Suomy team achieved the goal to make the helmet
the one of the safest on the market they then thought about how to make
it the most ecological, stylish and chic. With some research, the technicians enrich the helmet with natural wood of different kinds and shades. There will never be two helmets the same because of the nature of the wood grain, nature can't make it twice. The application of wooden inserts is totally entrusted to expert ebony makers who make Suomy Apex unique. For correct maintenance use a soft damp cloth with products conceived for wood. Avoid the use of any abrasive products.
Suomy wanted to make his helmet shine like a jewel, and this could only be achieved embellishing the helmet with the famous crystals from Swarovski. The large shiny top gives Apex an incredible light and tone on tone effect, combined with the colour of the outer shell, it's a true jewel.
Plain mono colour shell, visible air intake vents equipped with chrome frames and chromed side parts in different colours give this model a bright and sophisticated effect. 
This is the most classical and understated elegant version of the entire range, able to emphasise the technology of Apex in every detail. Suitable for any kind of equestrian discipline. 
Find this incredible range of helmets online at Kentaur Australia. If you have any questions or you have seen a helmet you would like to order in please don't hesitate to contact us.