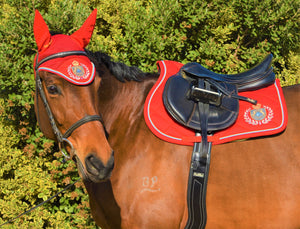 How to choose the right matching set for your horse
Trying to decide what colours to use on your horse may be an entirely first-world problem, but that doesn't make the decision any easier! Yes, you can simplify it and go with conservative black/white/plain colours, or just your favourite colour. However, if you want to 'mix and match' your horse's wardrobe (i.e. with matching sets) to suit its coat colour, then keep reading… Bearing in mind that this is still a very subjective process!
The first point we would make is to trust your instincts. Most people would instinctively know that bright red on a bright chestnut will probably not look good! In general, we would say that light horses tend to look better with contrasting dark colours, whilst the opposite applies for darker coloured horses (i.e. lighter and brighter colours). Dull coats can also look good with bright colours, whereas bright and shiny coats are more suited to cooler colours.
Any 'redhead' horse (i.e. chestnuts, duns, red roans) tends to look good with tones of beige, brown, peach and green. Whilst it depends on the shade of the coat, a general rule of thumb is again to match cooler colours with the warmer toned red and orange colours in the coat; meaning that the colour will depend just how much of a 'redhead' your horse is. If in doubt, go for a dark blue (e.g. midnight blue) or even a mint/dark green – but don't forget to avoid red, orange or yellow!
Brown horses, on the other hand, can look good with most colours (depending on how much red is in their coat). Dark browns or bays can look stunning with burgundy to bring out the red tones, with warm colours in general helping to make the dark colours pop (even white can do this). Black can look good on lighter colours of brown.  
In terms of black horses, you can't go past red! It stands out beautifully and provides a great contrast against the dark coat. If bright colours don't float your boat, then try pastels like dusty rose or even a white/beige can provide a lovely contrast.
For grey horses, I personally love the look of silver grey sets on a grey horse. However, bright pops of colour in the form of red, blue, purple and even green can also look stunning.
Last but not least: coloured horses and palominos! Bright colours can stand out nicely, but then black can also help to make the horse's coat stand out on its own. Purple is a popular colour for palominos, but avoid yellow and orange based colours.
Overall, choosing colours for you horse's matching set is a very subjective process, and can often involve trial and error. Or you could simply go for a more traditional colour such as black, white or navy to ensure that the set can be used on multiple horses! You can view our matching set collection here (sets from FairPlay, Kingsland, John Whitaker International and Cavalleria Toscana).