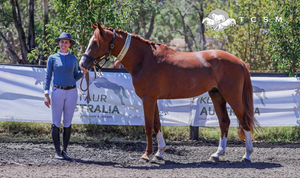 2023 ACE ASSESSMENT: Our home bred stallion was licensed
It's been a while since we have done a blog post regarding the results of our Annual ACE (Australian Continental Equestrian Group) Assessment Day. Due to COVID no assessments took place in 2020 and 2021. In 2022 there were limited numbers due to our move, but this year we are starting to get back to pre COVID numbers which is fabulous to see!
In 2024 we are hoping to have Kentaur open to the public again for people that live North of the river to bring their horses for Assessment. This is an opportunity to present your horse for review by an expert, receiving feedback about things such as conformation, movement and jumping ability as well as giving young horses opportunity to practice travel. Not only can this help provide direction on whether you are breeding a correct horse for sport, but it can help inform future breeding choices and provide you with valuable feedback about their horse in general. Overall we are very excited to see so many people in WA now recognising the importance of ACE assessment & are looking forward to seeing increasing numbers in the future.
Eight of our horses were presented on the day, including our resident home bred stallion Kentaur Kristoff for licensing, and staff member Paris Endersby's Tinkas Bay into the broodmare studbook. The remaining six horses were home bred foals from the 2022 season, two of which have already been sold. Eight ribbons were presented, four premium and four elite which was incredible to see. 
We were delighted to welcome our 2023 Assessor Jens Wehrmann. Jens has a long history of working as a highly respected Breeding Consultant for Gestüt Sprehe Stud one of the largest internationally recognised Stallion Stations in Germany for 7 and a half years. Having also worked for
the breeding associations Hanoverian, Oldenburg and Westfalian studbook his knowledge is extensive. 
Jens travels internationally judging, most recently, Czech Republic judging young horse classes plus the mares and foals. Jens says his favourite breed is a 'good quality' horse. He believes the horse itself must be a standout, not from a particular breeding association. He states the horse does not need to be from a certain stallion or a special breed. His main idea is the resulting horse must suit everybody, the professional and the amateur rider. 
Through his extensive experience as a breeding advisor and commentary skills in front of worldwide audiences we were absolutely thrilled to have Jens for our 2023 tour.
Home bred stallion Kentaur Kristoff (ABS Conquistador/Kentaur Burberry (Balou Du Rouet/ Indoctro VDL)) was the first horses to be assessed. Back in 2019 Kristoff was presented with a premium ribbon and we wrote in our 2019 ACE Assessment wrap up blog "Kristoff is bred in blue and will no doubt be an exceptional performance horse as most of the other ASB Conquistador progeny". 
Four years on, he's broken in and being presented for his stallion licence, and he didn't disappoint! The stallion licence requires the horses to be assessed on 
conformation, movement and jumping ability. Director and owner Lucy Galovicova rode Kristoff on the day, he was presented with ELITE scoring a total of 84% & is now a fully licensed stallion. This is an outstanding result, and a huge asset to our breeding program here at Kentaur but also for local breeders in Western Australia.
Next horse for assessment was 
staff member Paris Endersby's performance mare Tinkas Bay. Fondly know was Tinka she is by Tinka's Boy out of a Noblewood Park Collins mare Barrabadeen Halifax
. Tinka has recently flushed a embryo to Kentaur Kristoff which will be due at the end of 2023. She was presented with a ELITE ribbon and is now a registered studbook 1 mare. Congratulations Paris!
First of our foals to be assessed was the striking colt, Kentaur Fascination. Sired by Fontaine Blue VDL (Toulon/Indoctro VDL) out of our foundation broodmare Barrabadeen Captivate (Noblewood Park Cougar). Known as Fynn around the barn he was presented with a ELITE ribbon scoring 80.5%. Captivate has a habit of producing the perfect package and Fynn is no different. 
Next we presented Renatta Haywards colt Kentaur Em'BAR for assessment. Not that colour or markings play a part in the assessment, but this foal is chestnut with all the bling you can imagine! Sired by the legendary Emerald Van'T Ruytershof (Diamant De Semilly/ Carthago Z) who himself has produced 58 approved sons and 28 1,60m jumpers! Em'BAR is out of Kentaur Chat Me Up (Chacfly PS/ Baluga) who is now sold. "Waffles" was presented with a PREMIUM ribbon. Congratulations Renatta! 
Another homebred colt, Kentaur Kraken (Kentaur Kristoff/ Lollipop Ego Z (Lux Z/ Parco )) followed, who again was awarded a PREMIUM ribbon. We don't like to pick favourites around here, but if you ask David Dobson who his pick of the 2022 foal crop is... It's this one!
Kentaur Georgina a filly by George Z (Kannan/ Chin Chin) out of Oaks Valentina (Vivant/ Caretino) was the next of our Kentaur horses presented. George Z has a very interesting dam line, out of a mare Usha Van'T Roosakker, who has had 9 foals 4 of those are 1,60m jumpers and 3 approved sons! 
Oaks Valentina needs no introduction here in WA, winner of the prestigious Gaenor McInnes Memorial with David Dobson. She's by Vivant out of Sommerwind. Sommerwind is also the mother of OAKS COOBER PEDY who's jumping 150cm in Europe. Kentaur Georgina was awarded a PREMIUM ribbon & will be an 
asset to Kentaur's breeding program in the future. 
Next we presented Paris Endersby's colt Kentaur Korvette (Kentaur Kristoff/ Yalambi's Lucky Star (Yalambi's Fair Diamond/ Calvados)) for assessment. This handsome colt is one of three foals born to Kentaur Kristoff in his first breeding season & we are pleased to say that Korvette was awarded with a ELITE ribbon. 
Lastly we presented Kentaur Tinkabell for assessment. This beautiful filly is by Tinka's Boy out of Kentaur Calila (N
oblewood Park Calibre/ Liostro). This is Calila's second foal for us and she's proving to be an exceptional broodmare. 
Kentaur Tinkabell was awarded a PREMIUM ribbon and will also be an asset to Kentaur's breeding program in the future. 
Overall, there were some very exciting international bloodlines being assessed. Jens commentary was educational and informative, providing reasoning and explanations for his marks. We are very happy with the consistency of our Kentaur horses (the foals in particular) and are extremely pleased with Kentaur Kristoff handling his licensing like a seasoned professional. All in all, it was a great day to showcase a snapshot of WA's breeding, which has an exciting future!