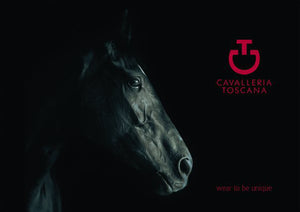 Why Cavalleria Toscana is Taking the Equestrian World by Storm
It may be a mouthful to pronounce, but Cavalleria Toscana (CT) is most definitely an easy brand to love. Combining the latest technologies and technical fabrics with a stylish Italian fashion sense, this brand has emerged as one of the premier brands for horse riding across the globe.
Based in Florence, all CT products are made in Italy. It has a focus on precision craftsmanship and technical functionality, with each item showcasing this (as well as exceptional style!). With a tagline 'wear to be unique', this brand is anything but ordinary; each collection has something new to offer to even the most discerning of riders. Extensive research goes into every garment, with the best materials and design processes being used.
Chief designer for Cavalleria Toscana, Alessio Meoni, is known for decking out some of the world's top professional athletes, and goes to great lengths to ensure that each product is tested to the highest standards. CT also works with top Italian manufacturers on each unique design, with attention-to-detail being at the forefront of the design process
Tested and endorsed by some of the world's top riders (Rolf Goran Bengtsson, Marcus Ehning, Patrice Deleveau, Lucy Davis and more), this brand has been designed with a range of equestrian disciplines in mind; including show jumping, dressage and endurance riding. In saying that, the brand's roots began in the glamorous world of polo!
We are proud and excited to be stockists of this outstanding brand, with regular new deliveries from the latest collections  (make sure you sign up to our email list to be the first to know about these new deliveries). Our current range includes a variety of show shirts, show jackets, competition and casual breeches, socks and casual wear. You can check it out here.