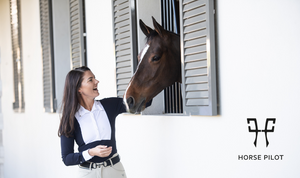 Prepare for landing, Horse Pilot is here
It's been just shy of one year since we decided to land Horse Pilot here at Kentaur Australia. A French brand that has spread its wings across 44 different countries delivering equestrian garments that adapts dynamically to the rider's body shape and riding style. Why haven't we blogged about Horse Pilot sooner we hear you ask, well we wanted to test this brand for ourselves, here at Kentaur, riding our horses. 
This is Horse Pilot 
Horse Pilot has immersed themselves in the daily life of riders, through their stories, their experiences, their convictions and doubts. They have developed a relationship with several professional riders who are as passionate
about riding they are (Daniel Deusser being one of them). Through those these relationships, experiences and observation, Horse Pilot continue to improve their products year after year.
An ethical and eco-responsible approach
Horse Pilot believe it's inconceivable to love horses without loving nature. And yet it is a fact, the textile industry is one of the most polluting in the world. They do not pretend to change this fact without delay, but are convinced that everyone has a role to play. Horse Pilot are passionately committed to limiting their impact throughout the life cycle of their products. It is with complete transparency and great humility that they share with us the current status of their environmental commitments. Packaging is at the centre of their attention. Aiming to produce as little waste as possible, and limit the use of materials. By 2020, 90% of their packaging is eco-recyclable. In 2024, they are aiming for zero plastic and 100% recyclable. Read more about their ethical and eco-responsible approach here. 
Innovation award winning Teknit Boots
As well as riding garments, Horse Pilot also manufacture the award winning Teknit Boot. The Teknit Boots underwent 3 years of development & 6 000 hours of testing. Manufactured from a highly expandable 3D mesh that stretches in 4 directions for a made to measure appearance. Foot comfort is guaranteed by a cushioned EVA sole and an anatomical cradle in the heel. A double-layer grip on the calf provides a secure fit and protects the area from abrasion. In 2022 the Teknit Boot was winner of the Equitana Innovation Award, and is paving the way. towards a riding foot wear revolution. 
Twist'Air Airbag - ultimate ride safety
Rider safety, more specifically Airbag vests are slowly becoming more common. Tokyo olympics we saw airbag vests take the world stage in showjumping for the first time, and they are becoming increasingly more popular in America. Horse Pilot are mindful of a rider's need for both safety and aesthetics. They set themselves the challenge of creating an airbag vest that combines comfort, protection, and discretion. Together with In&Motion, a company specialised in developing airbag solutions for skiing and motorcycling, they have designed this new-generation airbag, based on the new NF S72-800:2022 standard. This airbag has been specially designed to be worn under their airbag compatible range of competition and everyday wear. 
Competition or Casual?
Horse Pilot has created a Competition Series and an Essential Series of riding wear. Both technical and comfortable, designed to meet the style codes of competition and training requirements. We have tried and tested Horse Pilot garments here at Kentaur for nearly a year now, and we couldn't be more pleased with the quality and craftsmanship of their products. Riding horses is an outdoor sport, and can often lead to dirty, worn out clothes. Horse Pilot design products made to last in these conditions. Stand out products from their range are the 'X-Design' breeches which are available in both casual and competition colours. The 'Aerolight' women's competition shirt & the 'Suntech' training shirt. 
If you would like more information about Horse Pilot products please don't hesitate to contact us.