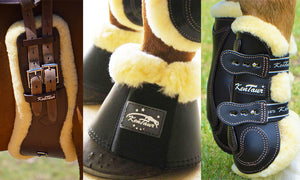 Five Reasons you should use Sheepskin Horse Gear
Sheepskin can be seen in numerous different forms when it comes to horse gear. Whether it be used as an additional lining for sensitive areas such as the nose or on breastplate pressure points, or as part of the entire product itself (i.e. sheepskin lined jumping boots), sheepskin products are commonly seen in all equestrian disciplines due to their many benefits.
Some of these benefits include:
1. Comfort: The super soft and pliable nature of sheepskin makes it highly comfortable, particularly for horses with sensitive skin. It is often used in thin-skinned areas such as the belly, nose and legs of the horse, as well as in shaped saddle pads to help cushion the weight bearing panels of the saddle and even the riders' weight distribution.
2. Protection: Sheepskin can provide a thicker layer of protection against external forces when used in products such as jumping boots. It also has antibacterial properties (wool fibres consist of proteins), so they protect your horse's skin from bacteria. Additionally, it has shock absorbing qualities, making it ideal for products like jumping, work or dressage boots.
3. Moisture wicking: Sheepskin naturally aids in wicking away moisture, helping to prevent sweat accumulation and the development of mould.
4. Air circulation: The fibres in sheepskin also allows air circulation between the hair and the leather of the sheepskin, helping to balance the temperature to keep your horse cooler in summer and warmer in winter.
5. Style: One of the additional benefits to using sheepskin products on your horse is how stylish they are! It adds an element of class to your horse's look, and can look especially dashing when there are matching sheepskin products.
Of course, despite all these benefits, sheepskin does require care to keep it looking good and functioning over time. On an everyday basis, we would recommend removing hair and dried sweat with a brush after each ride. In terms of washing,  sheepskin products should be hand or machine washed in cool water on a gentle cycle. Dry naturally.
You can view our range of sheepskin KenTaur products here.